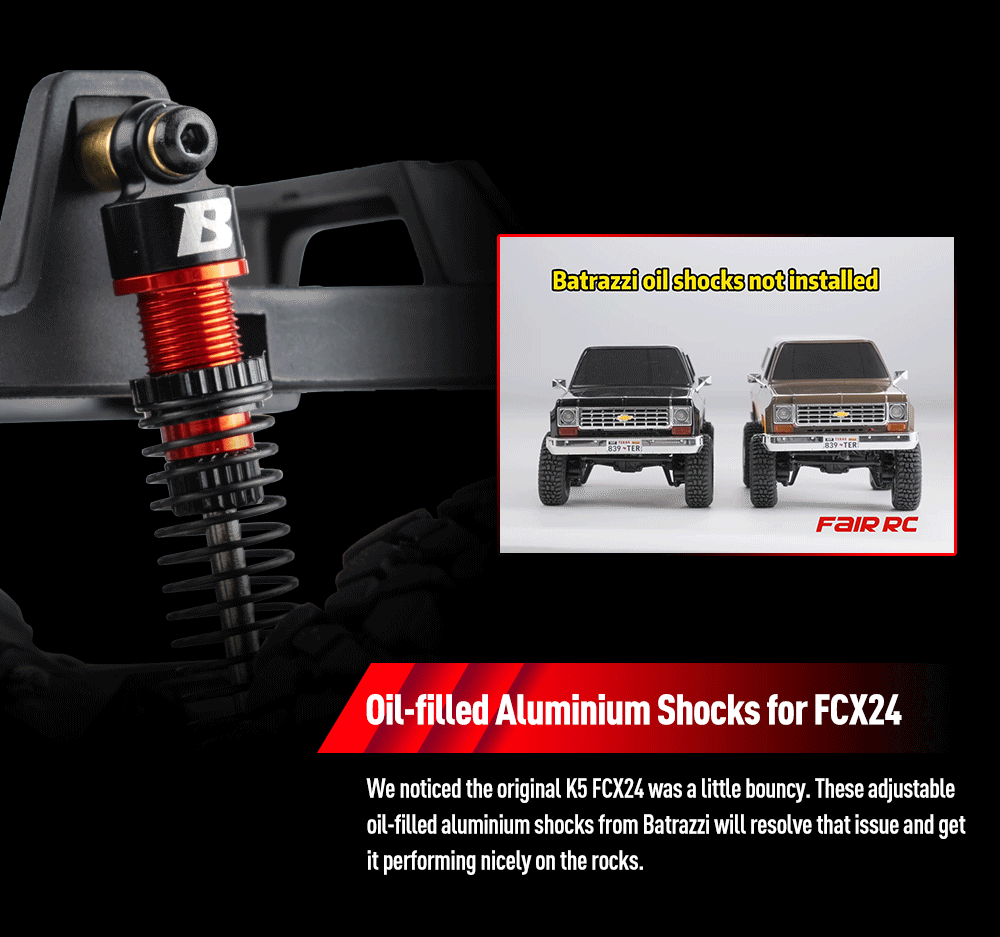 The K5 modified version has been modded by hand. It's hard to avoid a few slight flaws. Please keep this in mind when ordering.
Features:
Ready to run model
Groundbreaking two-speed transmission
High-passability door bridge design
Hydraulic shock absorber system
High-performance climbing base
Four-link transmission system
Simulation of the hard plastic car shell
Remote control lighting system
Portal Axle (metal gear)
Metal gears steering servo
High-strength integrated nylon frame
Rapid Separation of car body
Optional modification parts, like the front bumper, rooftop rack etc.
What's in the Box:
1 x 1:24 K5 Cool Way McCue Mod RTR
1 x 2.4GHz Transmitter
1 x 2-in-1 Receiver / 40A ESC (installed)
1 x 130 Brushed Motor (installed)
1 x 9g Plastic Digital Servo (installed)
1 x 13g Metal Digital Servo (installed)
1 x 7.4V 380 mAh Battery
1 x USB Battery Charger
1 x Hex Wrench Socket
1 x Product Manual
Equipment Required:
4 x AAA Batteries for Transmitter
ACCESSORIES RELATED TO THIS PRODUCT:
Shipping
We ship to most countries of the world except Ukraine, Russia, Belarus and Czech Republic. Shipping costs will apply and will be added at checkout.
It depends on where you are. Order processing time takes 1-3 business days. 

If you are in the United States or Canada, we give priority to delivery at the local warehouse, which will take about 3-5 days. If the products are not available at local warehouse, then we will ship at the Chinese warehouse, which will take 8-15 days. 

Delivery to other countries will take 8-15 days.
At this time we only ship to the US. We recently built a warehouse in Canada, and it only takes 3-5 days for all cars and planes to be delivered to the local area. We will continue to build our own warehouses around the world, including Europe, Asia, etc., so stay tuned...
We only ship these two sizes to the US and Canada because they are too bulky to ship from our warehouse in China.