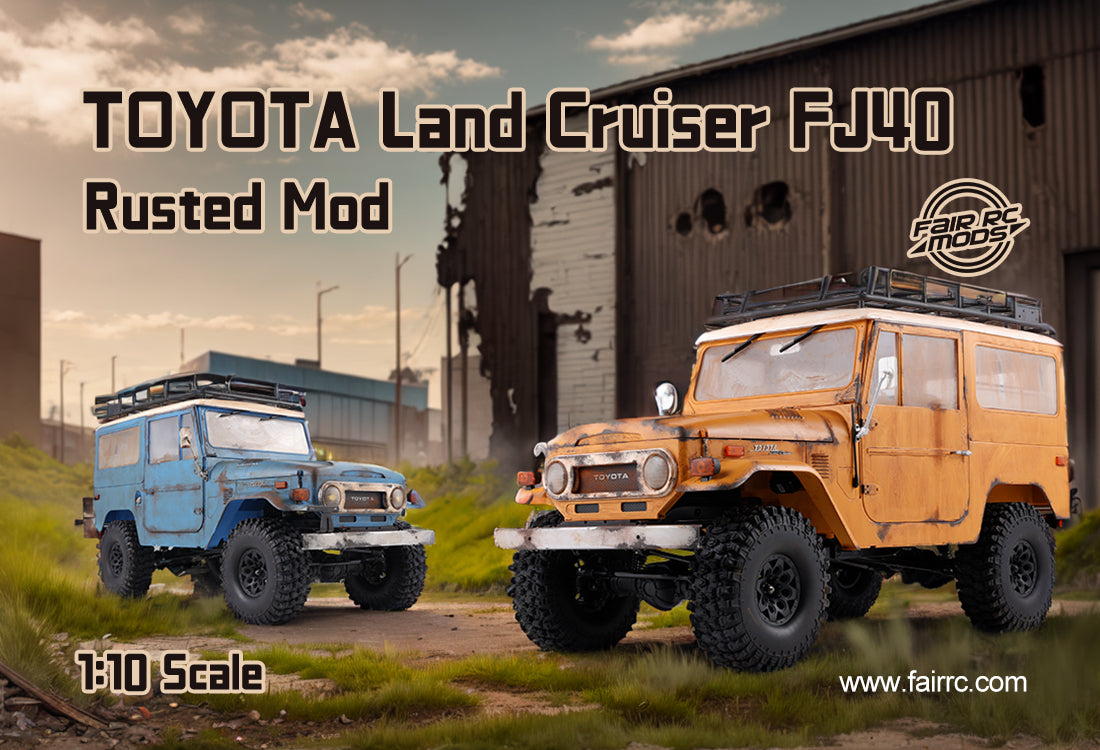 Toyota Land Cruiser FJ40 is the collective name for the Toyota Land Cruiser 40 series produced from 1960 to 1984. Roughly divided into BJ40/41/42 (short wheelbase), BJ43/44/46 (middle wheelbase) and HJ45/47 (long wheelbase). The most popular of the 40 series is the single-row two-door car.
1. Please note that the picture on the box and manual depict the standard FJ40, but the modded version will be inside.
2. The FJ40 modified version has been modded by hand. It's hard to avoid a few slight flaws. Please keep this in mind when ordering.

●Foldable rear seats
●Richer Interior Details & Realistic steering wheel & exquisite dashboard
●High-performance chassis
●Both side doors can be opened
What's in Box:
1 x 1:10 FJ40 Rusted Mod RS
1 x 2.4GHz Transmitter Set
1 x 550 Brushed Motor (installed)
1 x 9g Plastic Digital Servo (installed)
1 x 15kg Metal Digital Servo(installed)
1 x Product Manual
Need to Complete:
4 x AA Batteries for Transmitter
Battery for Car (Recommended 2S LIPO 5000mAh(XT60)
Battery Compartment: 136 X 22 X 42MM
ACCESSORIES RELATED TO THIS PRODUCT:
Shipping
We ship to most countries of the world except Ukraine, Russia, Belarus and Czech Republic. Shipping costs will apply and will be added at checkout.
It depends on where you are. Order processing time takes 1-3 business days. 

If you are in the United States or Canada, we give priority to delivery at the local warehouse, which will take about 3-5 days. If the products are not available at local warehouse, then we will ship at the Chinese warehouse, which will take 8-15 days. 

Delivery to other countries will take 8-15 days.
At this time we only ship to the US. We recently built a warehouse in Canada, and it only takes 3-5 days for all cars and planes to be delivered to the local area. We will continue to build our own warehouses around the world, including Europe, Asia, etc., so stay tuned...
We only ship these two sizes to the US and Canada because they are too bulky to ship from our warehouse in China.